Click image to read entire story from the North Shore Sun...
---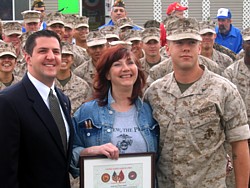 (Photo by Elizabeth W. Sobel)
Back from Iraq, safe and sound
By Elizabeth W. Sobel
Janene Gentile of Miller Place beams with the pride reflected on her shirt — which reads, "The Few, the Proud, Marine Moms" — as her son, Lance Corporal Robert Shilling, and 30 other Marines are welcomed home by the North Shore Youth Council. Legislator Dan Losquadro, left, and other residents who helped supply the Marines were also there.
04/29/2005 | 06:11 AM
Welcome Home signs plastered the outside walls and front door of North Shore Youth Council (NSYC) headquarters at the Joseph A. Edgar Elementary School Monday afternoon to greet 30 United States Marines of the Sixth Communication Battalion sent home from Iraq just one month ago. The venue may seem odd, but it's not. The children who attend the programs there have sent over 2,000 pounds of supplies to fighting men and women stationed in the Middle East, according to the North Shore Youth Council's executive director.... Read more....
YAC -- Youth Advisory Committee
Monthly Meetings 6:30 to 8 p.m.
NYSC Recreation Room

Voice Your Ideas
Coordinate Youth Events
Help Our Community Your service counts as credit!
Hope to see you there!
North Shore Sun Article
For teenagers, summer jobs abound on the North Shore
---
North Shore Sun Article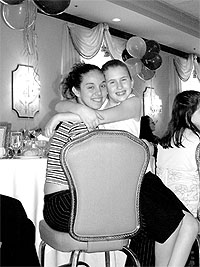 The Buddy System
by Nicole Cotronreo

ROCKY POINT--Younger siblings all over the North Shore are wondering if aliens abducted their older brothers and sisters, and returned nicer ones in their place.
The effects of the Big Buddy/Little Buddy program organized by the North Shore Youth Council are profound in its participants and are felt by those around them. Such was the testimony of parents, school administrators, program coordinators, "big buddies" and "little buddies" at a banquet Monday celebrating the program's accomplishments.
---